BionicPan P200WCI
2-3 Days
BionicPan P200WCI
Stock:

2-3 Days

Model:

P200WCI

Weight:

3.00Kg

Dimensions:

180.00mm x 180.00mm x 85.00mm

Description
BionicPan P200WCI is an evolution of our P200WC that removes trying for several years.
The same recipe of success repeats that his predecessor, but it adds to it the power and COB's reliability CREE.
We preserve COB 200W Full Spectrum, which with his spectrum and the power still makes it the most effective of the market, and replace COB Warm White by COB CREE, acclaimed by numerous cultivators for his balanced spectrum and his high luminous performance.

Totally drafty and with his proper integrated supply, BionicPan P200WCI is a system and complete of lighting autonomous, and perfectly adapted to all the phases of growth or flowering of his plants.
Technology
The BionicPan has a COB CREE CXB 3070, very powerful, sustainable and trustworthy. Also it consists with LED's counterfoil, arranged on a plate of ceramics. In spite of his top performance, his quality of high range, and his American origin, we chose to integrate a COB CREE in our new generation of a panel, without raising the price!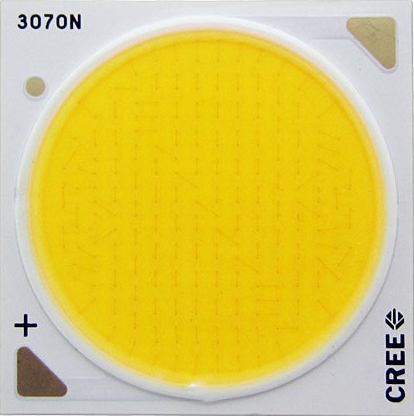 The spectrum of the COB CREE CXB3070 has a peak in the blue ones that it corresponds very well to the vegetative phase, and a great part of the orange trees covers and red that is very well adapted to the phase of flowering.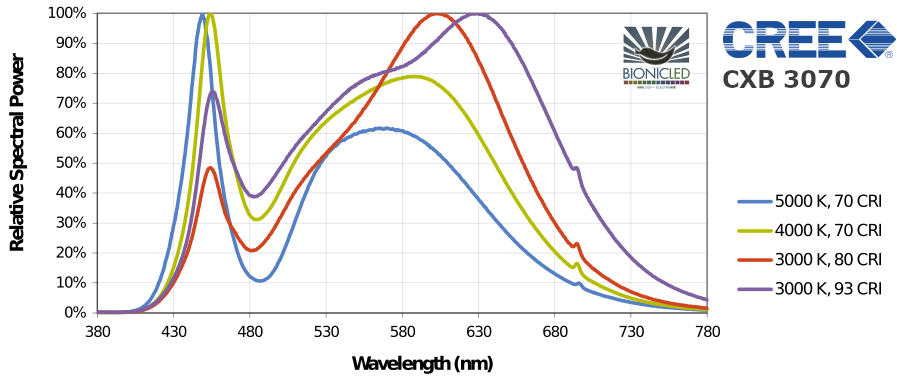 Luminous spectrum
BionicPan's spectrum is composed by 7 wave lengths that cover the majority (96 %) of the band of absorption of the photosynthesis thanks to his COB 64x3W Multicolored, and of a Warm White 3500k, balanced on blue and red, that comes to complete the spectrum, to reinforce the luminous penetration and to give to the global spectrum a color to dominant white that allows to observe the green color of his plants.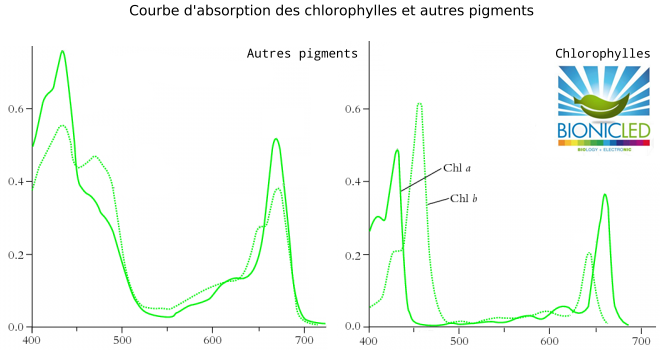 The light emitted also takes in consideration optimizations for combination of wave lengths. The luminous obtained flow corresponds perfectly to all the phases of development of the plant (cuttings, growth, flowering)
- Warm White 3500k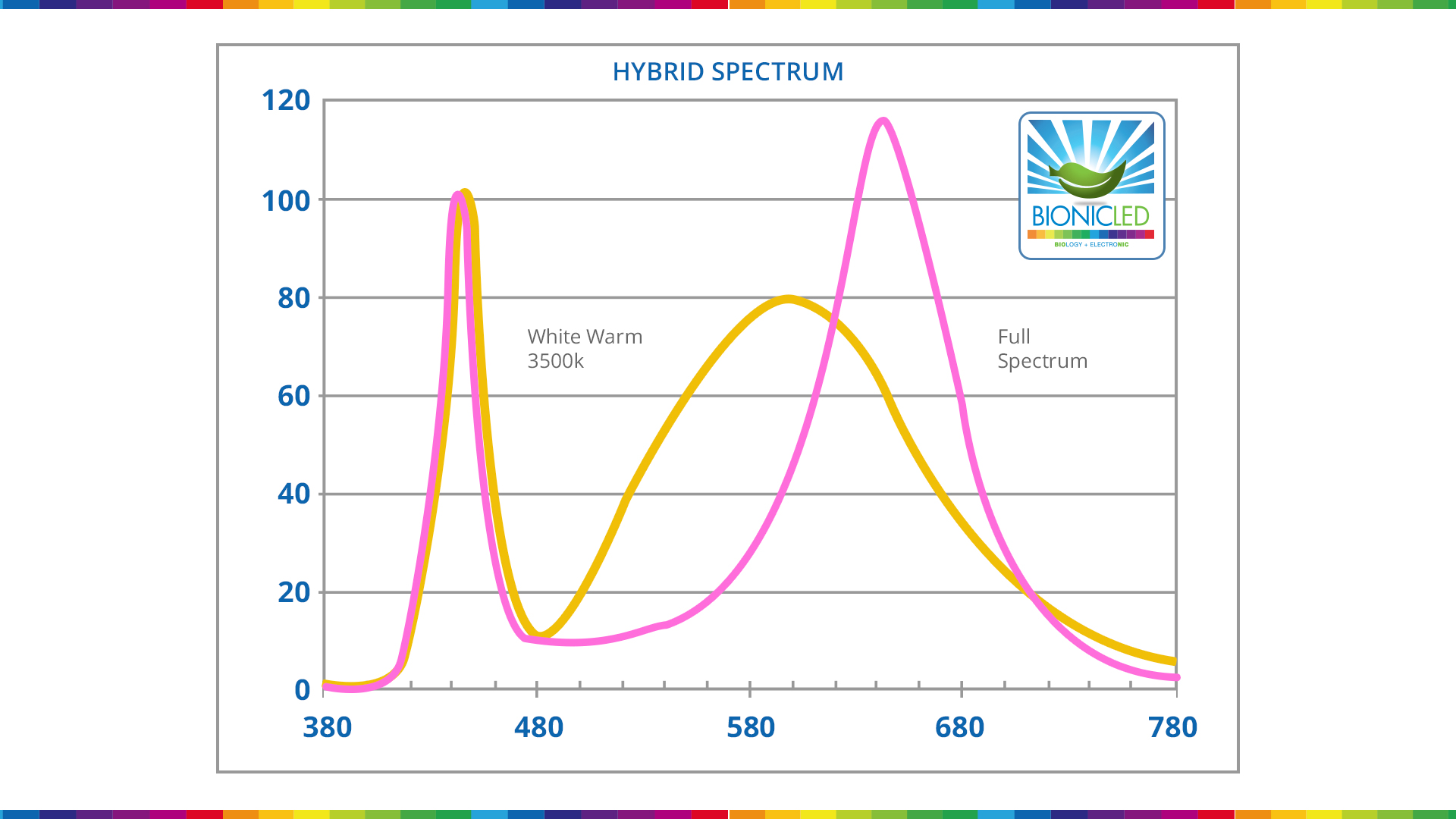 Luminous improved penetration
The BionicPan use a "hybrid" spectrum obtained by association of 2 types of COB Alta Potencia.
- COB 200W with spectrum dedicated to the growth and to the flowering consisted of 7 wave lengths
- COB CREE CXB3070 with white hot spectrum 3200k/3500k
This composition, possible only thanks to the technology LED, allows to accumulate several advantages:
- COB 7 wave lengths offers a very rich assimilable spectrum, and 100 % for the plant
- COB white heat, allows the contribution of lengths of complementary waves, but especially a strong increase of the luminous penetration
The conclusions of the observations and effected measures are:
- A global spectrum that turns out to be white to the eye, and that preserves then the green color of the plant.
- An increase of +30 % of the Photosynthetically active Sheen (Photosynthetically activates radiation / FOR / PAR)
- A luminous power 4X higher (lux)
- An increase of the luminous penetration of +20 cm
- An increase of the cobertura of +20 %
Coverage
Coverage (ideal> max): 40x40/50x50/60x60 cm
Measured PAR to 40cm of the plants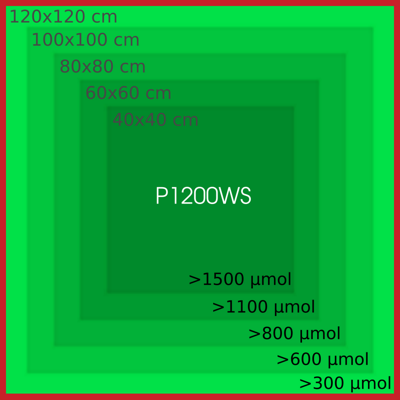 Measure to the half day at the level of the sea with a very sunny time: 2000mol
Quantity of maximum PAR absorbed by the leaves: 650mol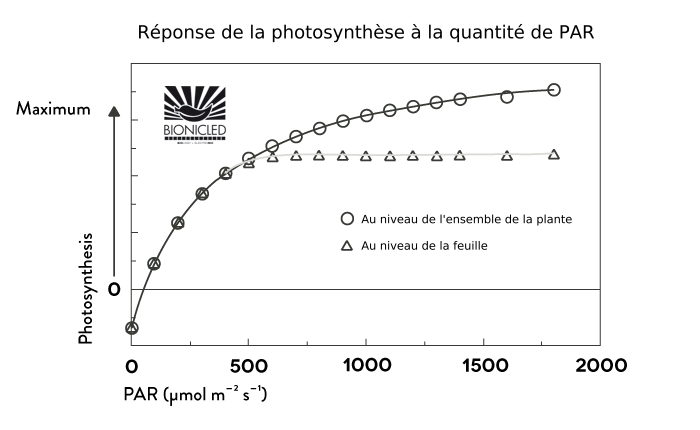 Coverage Cuttings: 70x70 cm (height of installation 90cm)
Coverage in growth 60x60 cm (height of installation 55-60cm)
Coverage in flowering 50x50 cm (height of installation 35-45cm)
Power, consumption and coverage
Nominal power: 200W
Emaciated power: 90-100W
Dimensions and technical characteristics
Voltage: 220V
Dimensions: 18x18x8.5 cm
I weigh: 3Kg