BionicSpot 18-3W-S
2-3 Days
BionicSpot 18-3W-S
Stock:

2-3 Days

Model:

18-3W-S

Weight:

0.65Kg

Dimensions:

120.00mm x 120.00mm x 130.00mm
Presentation
BionicSpot 18-3W-S is a hybrid spot that is composed of 18 leds of 3W. 50 % 3500k + 50 % Full Spectrum.
9 LED Full Spectrum is LED of new generation whose spectrum only is composed only of lengths of useful waves for the photosynthesis.
And we complete this spectrum with 9 LED White(Target) 3500k, in order to reinforce the luminous penetration of the spot and to extend the global spectrum.
BionicSpot 18-3W-S is of fact a type of merger between(among) our best-seller, BionicSpot 18-3W Full Spectrum and our White hot spot 3500k BionicSpot 18-3W-W.
His spectrum is very complete, and corresponds perfectly to the phases of growth and of flowering and the esquejes.
His advantages with relation to our other spots are that his light has the dominant one white, which allows to observe the natural colors of the plants, and that he proposes a more homogeneous spectrum because the wave lengths are mixed from the origin.
We develop this spot in order to propose a very accessible product that presents a spectrum similar to that of our panels BionicPan.
This model of spot can join very well a culture already illuminated by a panel BionicLED, preserving the same spectrum for the plants, all his phases of development.
BionicSpot 18-3W-S can be used only and for all the types of green plants.
With his tip E27, this bulb can adapt on the immense majority of the current lamps.
Technologia
The BionicSpot 18-3W-S uses LED 3W of the brand(mark) Epistar (THE LED's unique supplier that proposes a very wide choice of wave lengths)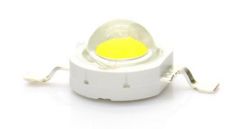 18 types of LED 3W are installed in a body totally of aluminium that allows a thermal passive and effective dissipation.
The supply(food) of the spot places in the tip of white plastic.
Light spectrum
BionicSpot 18-3W-S's spectrum consists with the spectrum of the LED Full Spectrum associated with spectrum of the white hot LED 3500k.
The LEDs Full Spectrum offers 2 beaks in the blue ones and the red ones that correspond perfectly to the curve of absorption of the photosynthesis.
And we complete this spectrum with a white light 3500k that extends Red / Orange / Yellow, it reinforces the blue ones, and contributes the green one to obtain a global rather white light.
The luminous obtained flow corresponds very well to all the phases of development of the plant (cuttings, growth, flowering)
- Blanco Calido 3500k
- Full Spectrum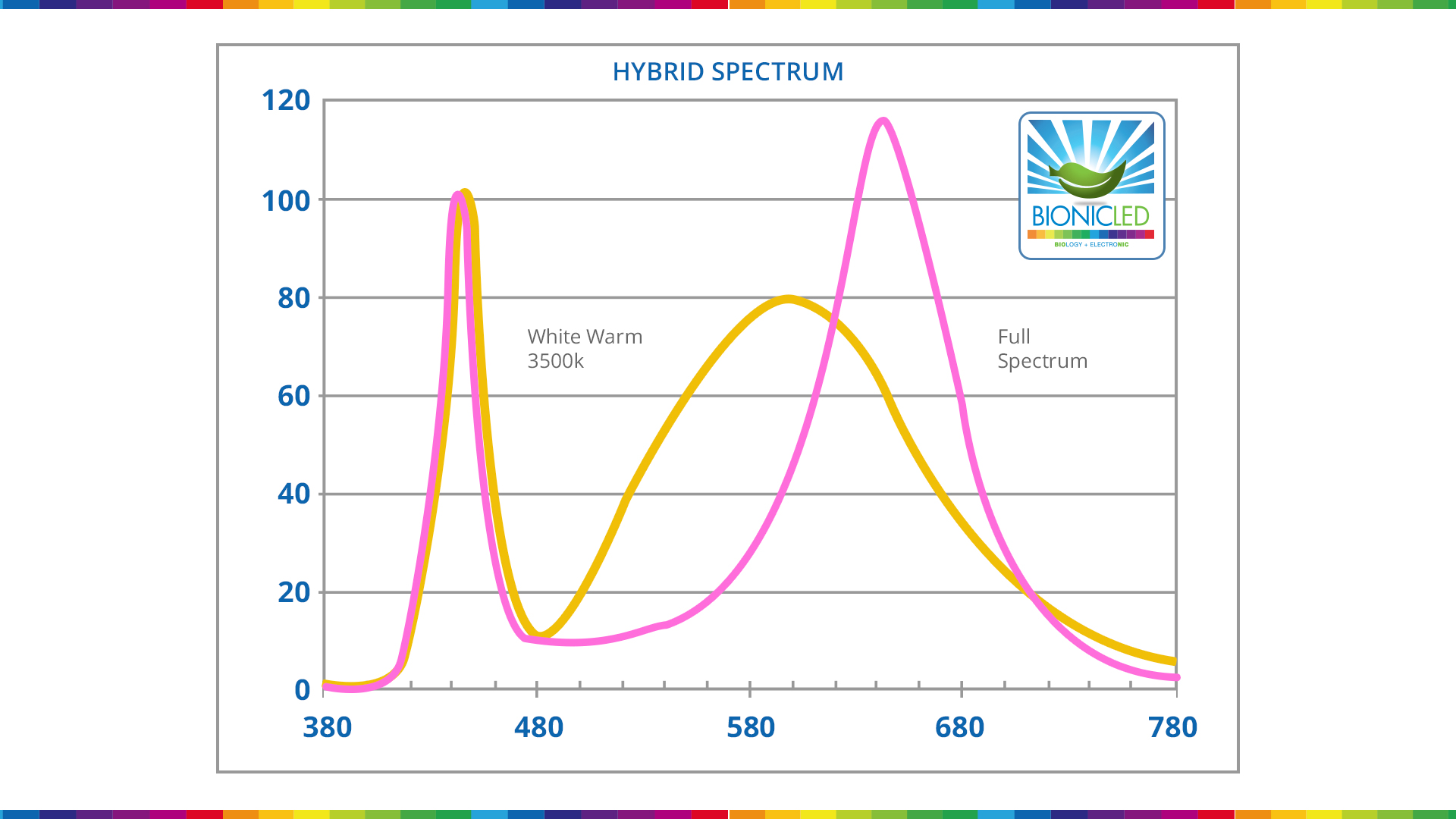 BionicSpot 18-3W-W's spectrum covers the majority of the bands of absorption of the photosynthesis.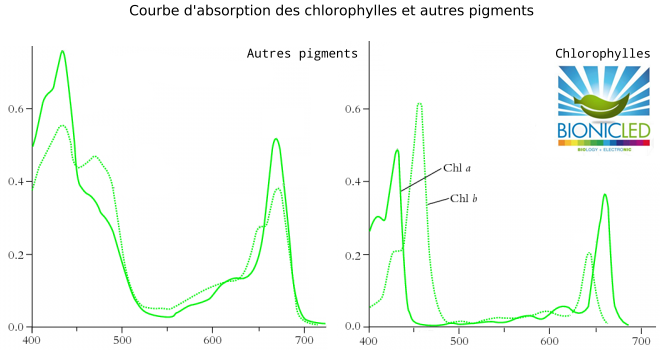 Light improved penetration
The BionicSpot 18-3W-S contains only 2 types of LED in which the voltage and the amperage of functioning are identical, this allows to make them work to a power higher than those of BionicSpot 18-3W.
BionicSpot 18-3W-S is at the time a bit more powerful than BionicSpot 18-3W.
The new LEDS Full Spectrum used in this spot offers also a luminous penetration more important than a part of our original spot BionicSpot 18-3W.
In association with white LEDS, the resultant spectrum is more powerful and more penetrating than that of the BionicSpot 18-3W.
On the other hand, 18-3W S offers a more enriched and more precise spectrum, as well as a higher percentage of infrared.
Power, consumption and coverage
Nominal power: 54W
Emaciated power: 22-24W
Coverage cutting: 50x50cm (height of installation 50cm)
Coverage in growth: 40x40cm (height of installation 40cm)
Coverage in flowering: 30x30cm (height of installation 30-35cm)
Dimensions and technical characteristics.
Tip: E26/E27
Voltage: 220V
weight: 750g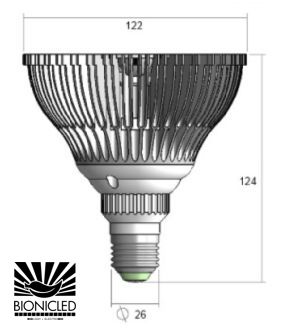 Advice of utilization
BionicSpot 18-3W-S is particularly adapted to short plants(floors), in culture(culturing) in SCROG.
It(He) can be used only, to cover a surface of plants in growth, flowering or with cuttings.
The luminous spots can be used in lateral complementary lighting to favor the development of the least exposed flowers.
BionicSpot 18-3W-S is convenient perfectly to the maintenance of a parent plant, or in complement of spectrum of a HPS.
This spot is advised in cuttings and growth, if there is used a panel BionicLED in flowering