BionicPan P250WX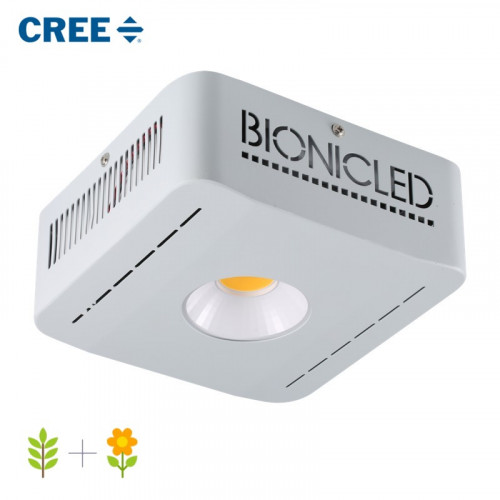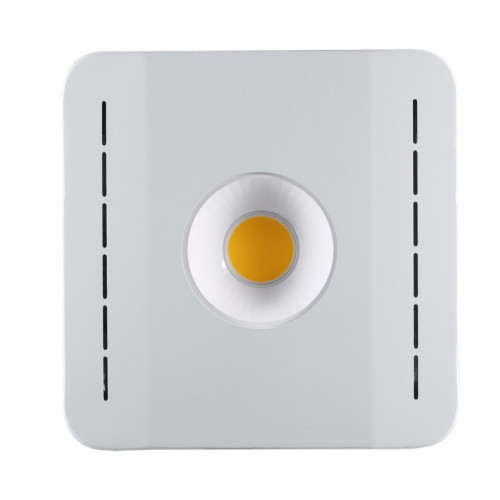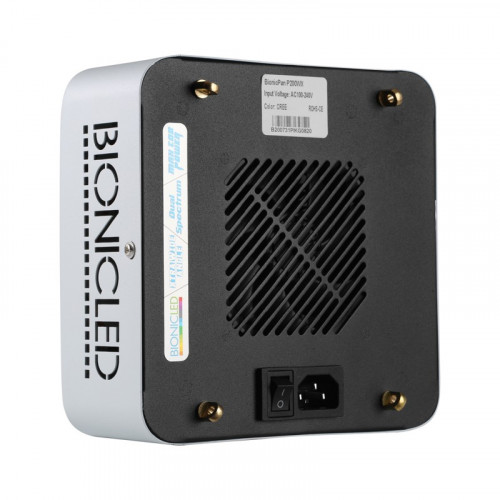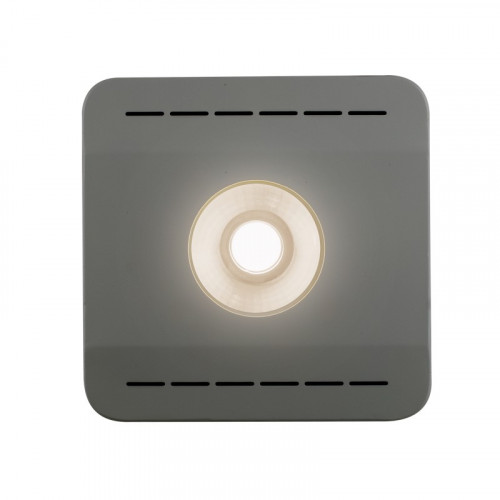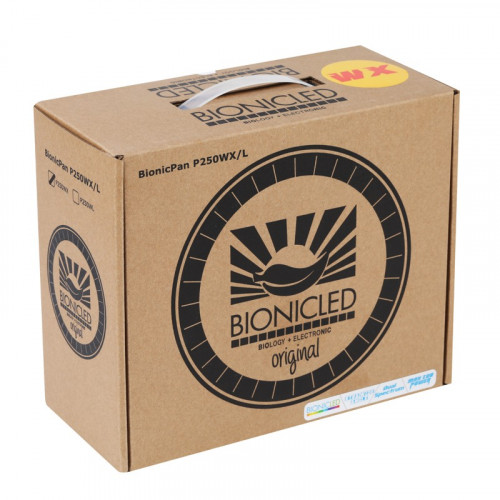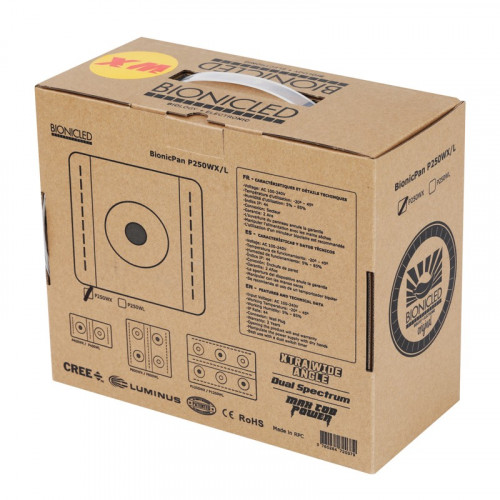 BionicPan P250WX
Stock:

In Stock

Model:

P250WX

Weight:

1.50Kg

Dimensions:

18.00mm x 18.00mm x 7.00mm
The BionicPan WX series is the most advanced to date.
The P250WX retains a Cree CXB 3590 COB, but the COB power supply and housing venting have been revised.
The driver used to power the CXB chip has a higher efficiency and the ventilation is more efficient and quiet.

WX SERIES DESIGN

The unique housing of BionicPan WX incorporates an angle on the front
side
that slightly angles the COBs outward to illuminate a larger area.
Many LED panels show a high light intensity directly under the lamp, and a rapid decrease in light intensity when moving away from the panel
.
The unique design of the WX series reduces this effect, and better distributes the light power
over the area to be illuminated.
The P250WX, with only one COB, is the only panel in the BionicPan WX series that does not offer this improvement, but the design of its housing has been revised to reflect the new WX design and incorporate the two new front vents.


A MORE POWERFUL COB

The P250WX integrates a more powerful COB than the other BionicPan WX
It integrates a CXB 3590 3500K which is 30% more powerful than the CXB 3070 equipping the other panels, and has a 40% higher light output
.
The P250WX does not take advantage of the Dual Spectrum in combination with the Luminus horticultural COB, but its versatile 3500K spectrum and 110W power make it a very efficient panel!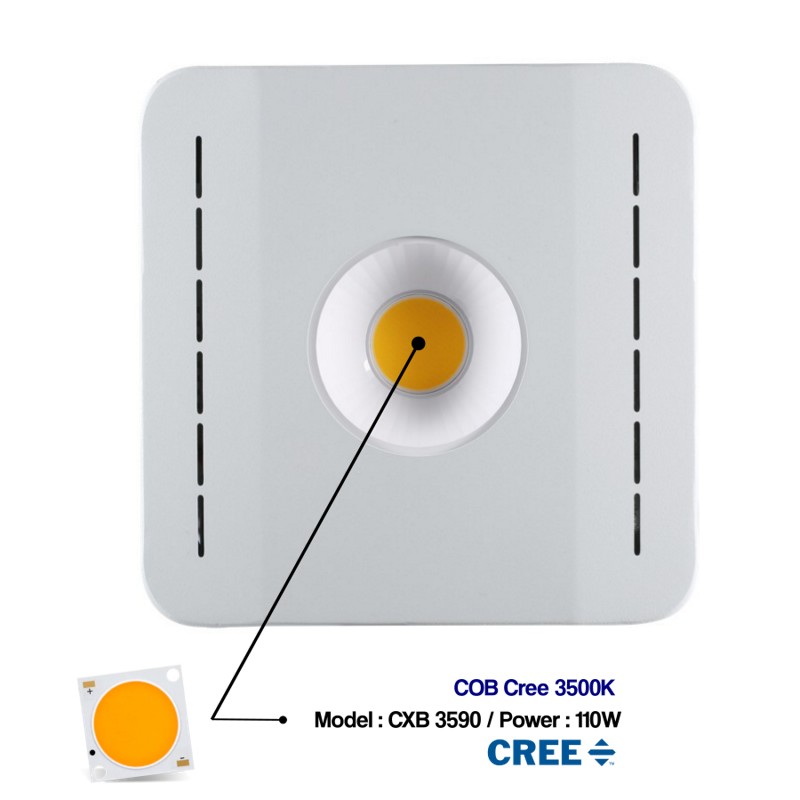 MAX COB POWER
The BionicPan's heat dissipation is active because we have chosen to get the maximum power from each COB
.
We power our Cree and Luminus COBs at 85W (or 110W for the Cree CXB 3590) when other brands have chosen a passive dissipation, but to limit themselves to 60W.
Why limit a COB intended to provide more lumens and Umol?
On this generation of panels we use larger fans (9.2 cm) custom developed, to offer the best ratio of airflow / silence.
The
cut of the air grilles on the rear panel has also been modified to maximize the air intake and reduce turbulence
.
On the front, the addition of 3 new vent lines helps prevent heat build-up around the COBs.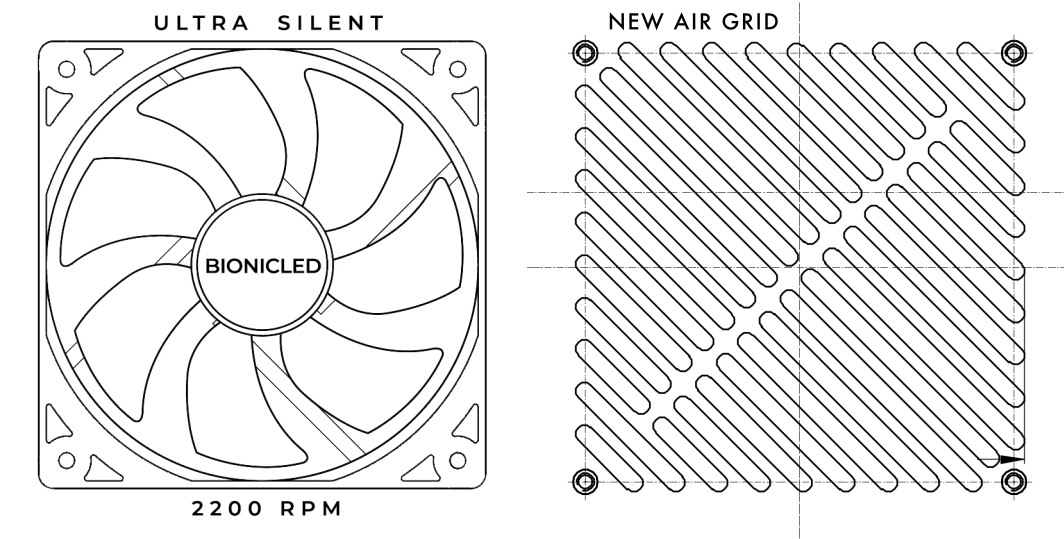 TECHNOLOGY

The BionicPan P250WX is equipped with the Cree CXB 3590 3500K COB whose spectrum perfectly covers the needs of photosynthesis during growth and flowering.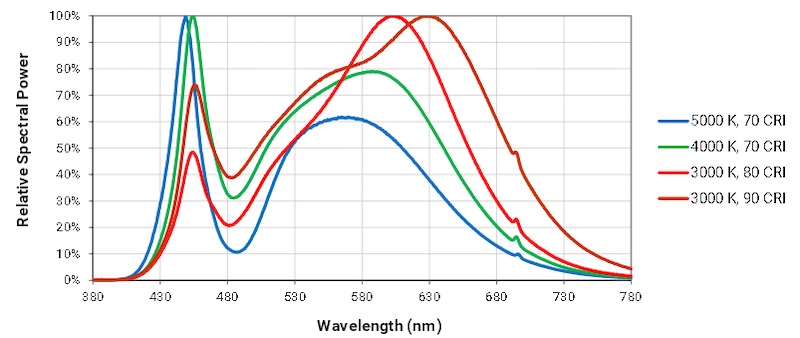 UNIQUE LIGHTING
The BionicPan WX are unique in their design and spectrum, but also because you will not need any other lighting during your cultivation.
The BionicPan can be used from germination to flowering.

The
spectrum of the BionicLED lamps is suitable for all phases of plant development
.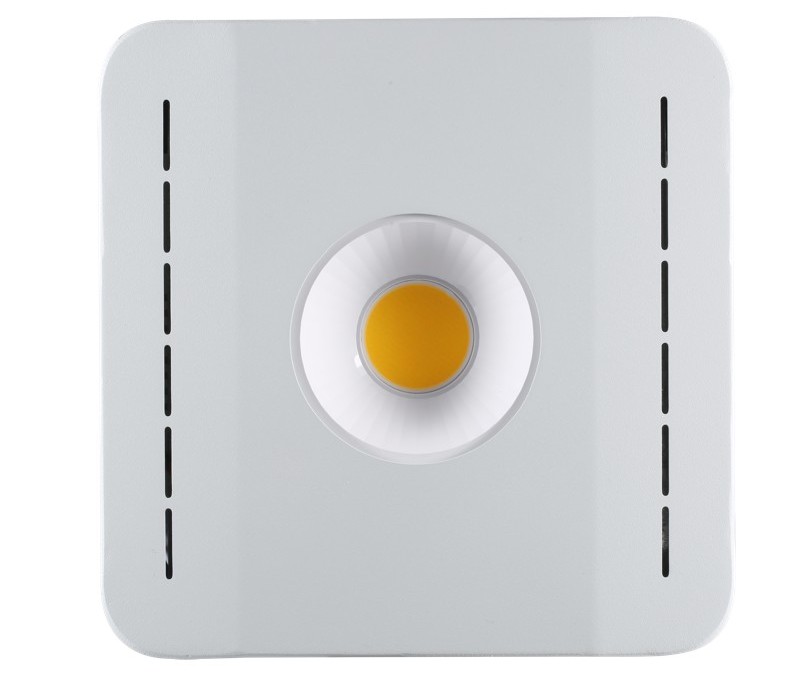 SPECIFICATIONS
Dimensions: 60/72 x 180 x 180 mm (H x W x D)
Weight: 1.5 Kg
Power consumption: 110W
Coverage: 60 x 60 cm (Flowering) / 80 x 80 cm (Growing)
Installation height (in relation to the canopy): 35/40 cm (Flowering) / 45/50 cm (Growing)